Right off the bat, I knew Jason Wu for Target wouldn't be as big and epic as
Missoni
was. It's a smaller collection by a smaller, lesser-known designer. There really aren't any must-have items, like the coveted Missoni throws of yesteryear. That being said, I really wanted that
goddamn cat scarf
, so I set aside Sunday morning for kicking some Target ass.
This time, I had a game plan. While Jason Wu
is
a lesser-known name--especially when you live in the backwoods, like moi--I knew my Target was the only store in the region to be carrying pieces from the collection. So instead of just dealing with bitches from the area, I could potentially be competing with die-hards from all across northern Minnesota, along with anyone who had heard about the Missoni/Ebay crazy-town last year and thought maybe they could cash in on Jason Wu this time around (hey, I understand. Times are tough. You're still an asshole, but I understand). So I got up early and got ready. I even brushed my teeth this time
and
ate breakfast.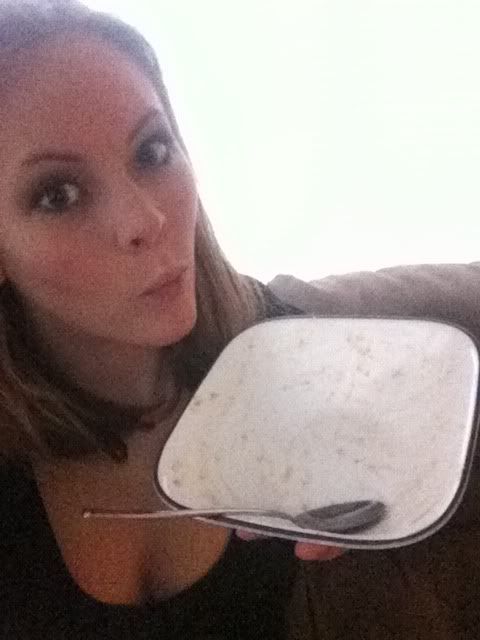 See? All gone! (That was oatmeal, by the way, not cement and drier lint like it appears to be.)
With that, I was off to my local Target store. I didn't drive fast because I didn't necessarily want to be the nutcase who got to Target at 7:59 a.m. when they open at 8:00. I do have some dignity, thank you. The drive was pretty uneventful, so I decided to take pictures of myself on the way, because that's an absolutely safe thing to do.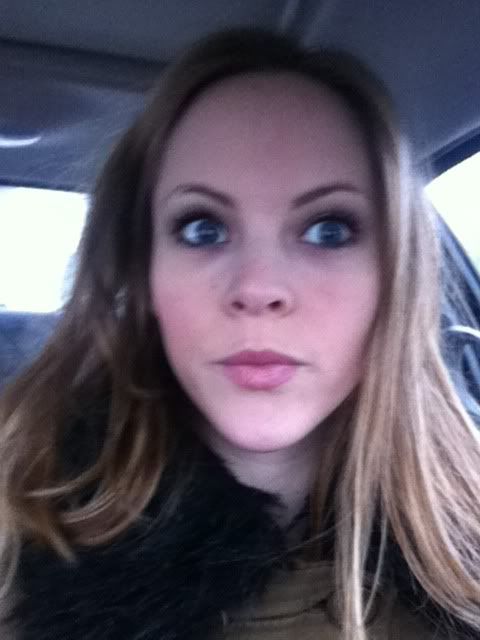 TEITM endorses keeping your eyes on the road.
Shortly, I had travelled from my humble abode in rural America to my local Target store. I approached it from behind, stalking it like a tiger stalks its prey.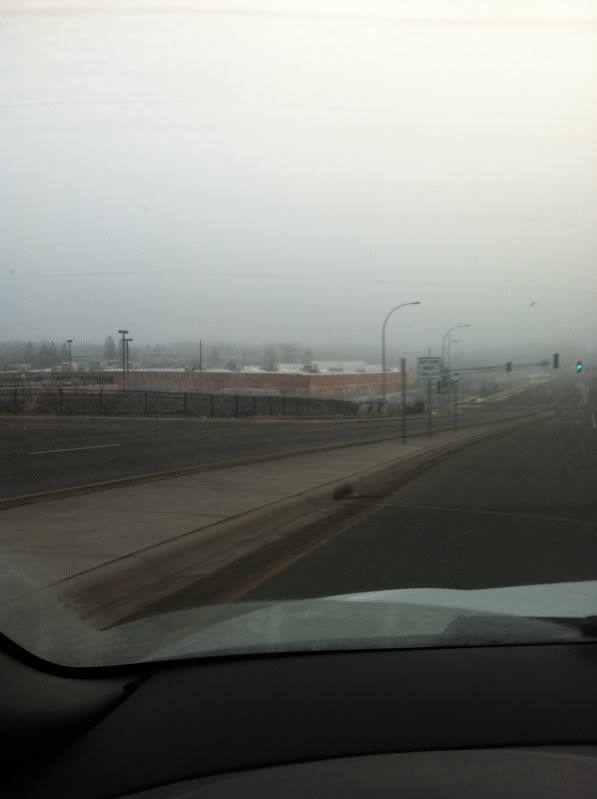 Or like an Ashley stalks its budget designer collections. Whatever.
It was at this time I felt my nerves begin to kick in. I got a little sweaty, gripped the wheel a bit tighter, and wanted to poop. I rounded the corner and did not like what I saw.

Cars. Lots and lots of cars.
There were a lot in the parking lot, which kind of threw me off. It's 8 a.m. on a Sunday morning. Shouldn't everyone be sleeping? Eating breakfast? At church? Something? Apparently not.

For the record, I officially arrived at approximately 8:03 a.m. (It's true. My clock is five minutes fast and I have no idea how to fix it.)
The walk into the store felt like it took an eternity. I power-walked, which is what you do when you really, really want to break out into a sprint but don't want others to think you're crazy, even though power-walking across a parking lot probably looks just as stupid. But it worked because I beat out everyone else heading into the store.
When I reached the clothing display, there were already some girls there, so I got grabby and nabbed the pieces I wanted. I still hadn't found
the scarf
yet, so I prowled around the accessory department for about five minutes until I finally found the (tiny) display. There was only one left, so I grabbed it, along with a clutch that I'm not sure I really like but felt obligated to pick up. You know how it goes.
THE END.
No, seriously. That was it. I made my way to the front of the store, paid, and left. And then I carried on with my day. But not before taking a photo with my most prized find.

Just think of all the really obnoxious photos I'd take if I hunted.
In my (humble) opinion: the fit of the clothing is better than Missoni's, and I think a wider variety of people are drawn to the style (as opposed to that godforsaken zig-zag bullcrap). The colors are nice and perfect for spring. My favorite item, by far, is the sleeveless dress (see below). Despite what others have said, I find the pieces to be relatively true to size. The t-shirts run a little large, however (I got a small in the cat t-shirt and I really, REALLY need an extra small). I also am not a big fan of the HUGE ASS Target logo on the scarf:
see here
. That was a low blow, Target. A low blow. I'm going to have to vastly improve upon my scarf-tying skillz to make it work.
I'm a little disappointed I didn't get to
lurk amongst the towels
like last time.
The rest of the pieces I got: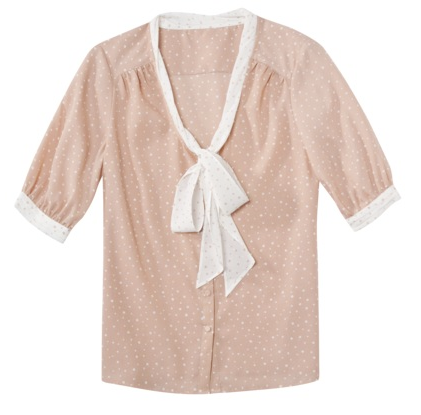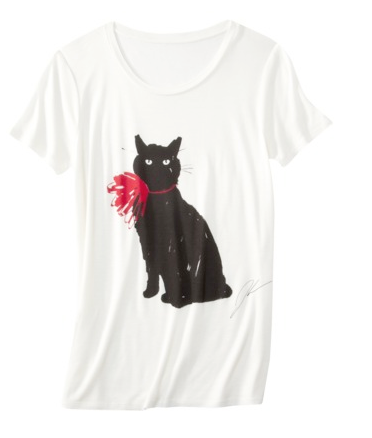 P.S. Thank you all for the concern about my momma. The surgery went fine. Details later!