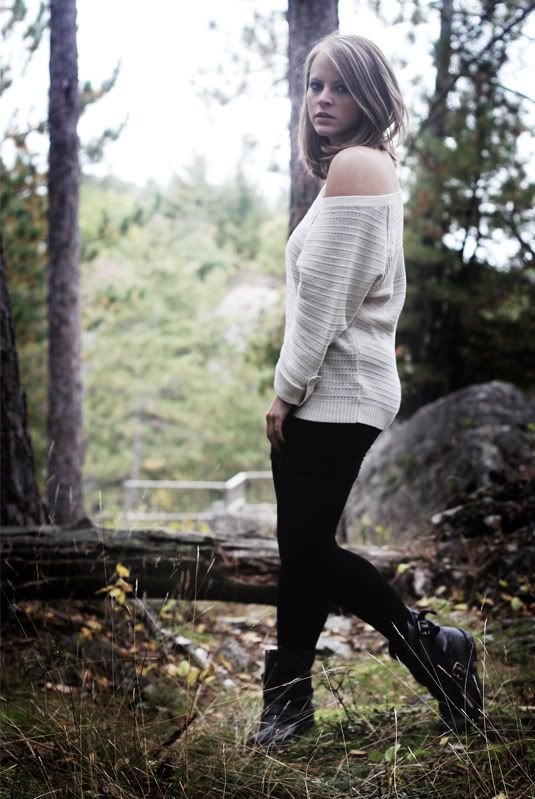 Look at me. I'm in the woods, wearing a skimpy sweater and a tight-ass pair of bike shorts (with tights. Yup. Not leggings. I fooled you!). If I saw this on someone else's blog, I'd probably be like, "Nuh-uh, girlfriend. No one goes for a walk in the woods in that get-up." But this is me, on my blog, and I can tell you in all honestly that yes. I did go for a walk in this get-up. Why? Because I am awesome.
The past few days have been very drama-filled for little ol' me. And by very drama-filled, I mean Wal-Mart wouldn't accept my coupons and I'm still trying to finish an assignment for school that I started on Tuesday. That's about it. I lead a simple life.
Thanks for your feedback on my Love Your Body Day ideas! Stay tuned for more details. ;)
And thank you to my estranged boyfriend for taking these pictures, even if I am mad at you right now because you found it necessary to follow and tweet a pornstar via Twitter even though you are NOT a horny sixteen year old boy anymore and when I bring it up to you, you tell me it's no big deal and immediately turn the blame over to me. Yeah. Nothing says "let's get back together!" like that situation.
Ahh. Drama.
Sweater: American Eagle
Bike shorts: UO
Boots: Jeffrey Campbell