Happy Monday everyone! I hope everyone had a fabulous weekend. I'm currently in the process of celebrating my boyfriend's birthday away from home, which, apparently, is synonymous with eating twice my body weight in strawberry shortcake. And bread. Lots and lots of bread. And now for something completely different: a guest post! Since I've been pimping it out on my blog quite a lot, I'm guessing most people know about the Guest Post Group. This month, my guest post partner is the fabulous Robbie from The Other Side of the Pond My Dear (check out her blog right now to see the post I wrote for her in action)! Thanks to Robbie for this fantastic post!
Ashley herself states that she is a 'realist who just happens to appreciate the art of dressing up.' This is probably true for the majority of us. I mean, who actually dresses like they do on the catwalks? For my guest post I have taken one of my favourite trends (romance) and pieces (the maxi) of the forthcoming season and looked at them with a realistic approach; how can we take what we see on the catwalk and incorporate it into our wardrobes?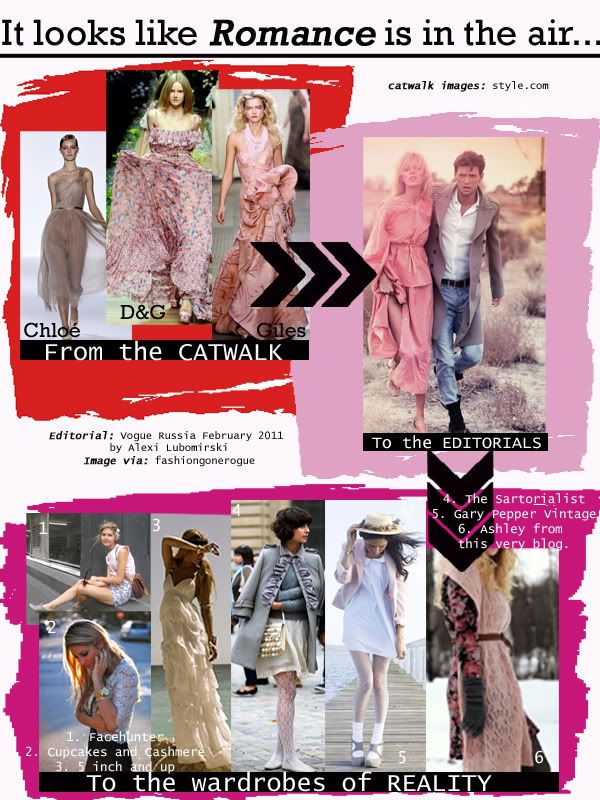 Romance: lace, ruffles and all shades of pastels is a look that we return to year after year. As soon as the sun appears, we all seem to want to dress ourselves in every manner of whimsical delights. This year it has definitely been more popular than ever with sheer and floaty fabrics seen everywhere from Lanvin to Thakoon.
How to wear it:
* One of the most simple ways to incorporate this trend is the blouse. Be it cream or vibrantly coloured, the soft movement of fabric and slight see-through texture definitely spells romance. Pair it with a high waisted skirt to add definition to your shape.
* For those more daring amongst us, wearing pastels head to toe (seen above on Gary Pepper Vintage) or even a full length dress lace dress (seen on 5 Inch and Up) will definitely draw the attention of many and make you feel you're living in a capricious dream!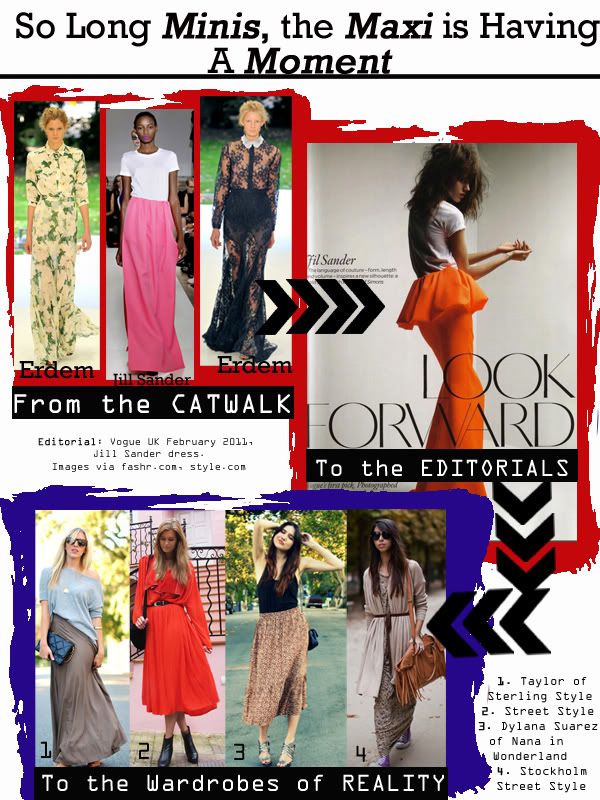 Just when you thought the mini or even the midi was here to stay, the fashion world has become captivated by a new length: the maxi. Many deem it to be a direct result of the falling economy - as the banks fail, so skirt lengths tumble down. Whatever the reason, this is definitely one of trends I am most excited about.
How to wear it:
* The key to this look lies in the shapes. A baggy lower half calls for a tighter top or added definition to your waist, perhaps a belt or scarf tied to draw you in at the middle. Look at the girl photographed for Stockholm StreetStyle - the waist belt completes the outfit and creates a lovely shape. After all this is one look that could leave you resembling a sack of potatoes.
* For those of you who are more adventurous, experiment with block colours (seen at Jill Sander) and sheer numbers - a fail safe way to capture the attention of many.
Thanks again, Robbie! Be sure to check out her blog if you liked this post. I know I'm seriously looking forward to wearing all my maxi skirts this spring, how about you?