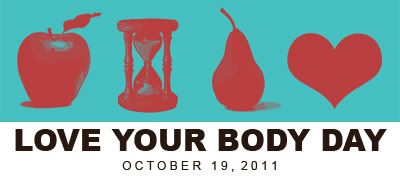 Happy Love Your Body Day, everyone! It's finally here and it's time to celebrate! If you've written a post about loving on your bod, please link up below! I want to let each and every post do the talking this year, so I'm not going to write a long entry, but I do want to post a few little tidbits that will hopefully inspire you to love your body and all the things it can do. So, without further ado, let's roll!


Don't let anyone stand in the way of you loving your body. Although it's hard, don't let anyone have that power over you. Focus on you and you alone. It's easy to compare ourselves and our bodies to other people ("Look at her thighs! Mine are like, twice the size of hers!"). But that's a recipe for disaster. I'm a positive person, but I realize that, no matter what I do, there's always going to be someone who has better looking legs than I do. And that's okay. As long as my legs are looking their best, I'm happy.

Stop talking smack. Fact: we live in a sexualized world. Comments like, "Oh yeah, bra, I'd totally hit that shit!" are common. So are things like, "That bitch is ugly. I wouldn't fuck that with a ten foot pole." Insulting or degrading other people reflects poorly on you. And it's a clear sign that you aren't comfortable in your own body, either. Try substituting the word "heavy" for "fat" for a week and you'll be amazed the effects it will have.

Stop talking smack about yourself, too. I talk about my body and weight quite frequently, but I do it in a positive way. Calling yourself a lard ass or fatty does what for you exactly? Nothing, except make you feel bad. When discussing your body, try to speak matter-o-factly. "I'm trying to eat healthier today because my tummy's looking rounder," doesn't have the negative connotation that, "Holy shit, so, I really need to stop pigging out. I'm getting sooooo fat!" does.

Don't change your body for someone else. When I was 16, I was into this guy. He told me he'd never dated anyone over a size six and had no intentions to. I was a size 10 at the time. It came down to me (dangerously) losing over 15lbs in three weeks, weighing in at 115 lbs. Guess what? He and I didn't work out, and I gained it all back and then some. If someone can't accept you for who you are TODAY, they sure as hell don't deserve you tomorrow (or the day after that).

Strive to be the best that you can be. Being healthy makes you feel good, physically and mentally. I've learned that, while I'm content at a size 6, I feel better about myself and have more energy when I'm focusing on what I'm putting into my body so I can fit into my size 2 jeans. The key is to not be excessive: as long as I know I tried my best, I'm not going to beat myself up in the morning when I see I magically gained 3 lbs overnight.

Now u: