Even though I have the beginnings of a nasty cold (I always get one around this time of year. FU, Fall. Summer is my favorite for a reason), I set my alarm bright and early so I could log on to
Target.com
to shop the new Missoni collection, which was just released today. I made myself a cup of tea, sat down at my computer, and stared at my screen in horror: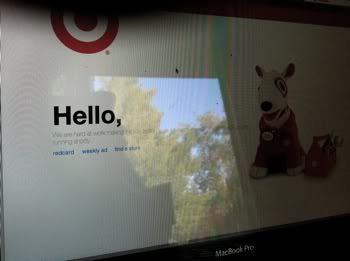 Target.com had died.
(As most of you are probably aware of by now, the server crashed due to the high amounts of traffic. I'm writing this at 9 p.m. at night and it's
still
down.)
Although I was apprehensive to leave my computer
because I'm a nerd
in case the Target website revived in my absence, I decided my best bet would be to drive to the closet Target store and see what I could see (and buy).
In about five minutes, I was ready to go. I didn't shower. I didn't brush my teeth. (I DID manage to put deodorant on, but that's about it.)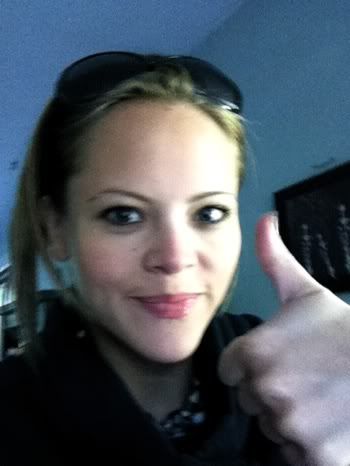 See, homegirl can get ready quickly if she has to. She just doesn't
choose
to most of the time.
After the long and tiresome journey (okay, it only takes about ten minutes), I made it to Target. I was excited and giddy to get through the doors, but I stopped and took a picture of myself, anyway. It's what I do.
I walked in the door. I grabbed a basket. And there it was. Missoni. Missoni. And yes! Even more Missoni. I was even more excited and giddy because I heard the horror stories that were being tweeted by everyone that their Targets were totally sold out of the coveted zig-zags. That was not the case here, my bitches. In fact, I was one of the only people in the store, save the employees.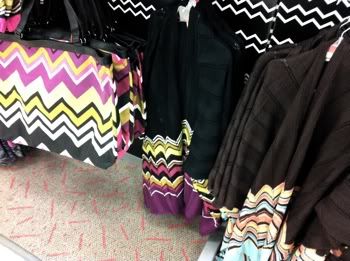 I grabbed a few things off the rack. A sweater. A hat. That gorgeous ruana-scarf-thing. (Truth be told, at this point, I wasn't all that in love with this collection. I thought a lot of it was ugly.) I was more excited about grabbing the home goods stuff, like the blankets, so I made my way toward that part of the store. I stumbled upon a team of employees and took in the image from afar.
This is sounding so dramatic, I really wish I had a picture to put here. But I don't. So I'll just tell you what I saw. I saw the team of employees still putting Missoni things on the shelves.
Because I didn't want to be one of those crazy people (although if you saw my receipts from today, you'd know I failed at that), I let them do their thang without harassing them and browsed the rest of the store. I decided that perhaps, to appear more sane, I should attempt to try to cover up the mass amounts of zig-zags that were overflowing my basket.
Clearly, I'm a master of deception.
I checked back every now and again to see if they were done and had put the damn blankets out. I did it real sneakily so my cleverly hidden Missoni stuff and I wouldn't freak them out. This may or may not be me lurking amongst the towels:
(Normally my nose does not look like that, so that's probably someone else.)
I checked at least three different times, and every time they were not finished. So in the meantime, I went back and looked at everything again, and the more I looked at it, the more I liked it. The more I
had
to have it (it also didn't hurt that, at this point, everyone was coveting anything from this collection because it had sold out so fast. I think it's a psychological thing). So I put more and more things in my basket. Two dresses. A handful of scarves. The tote bags. The ballet flats. The sezzy PJ set. I picked up a lot of stuff for friends whose stores had already sold out, too.
After my arms were shaky from carrying my overflowing basket, I went and checked back in the home section. They still weren't done. They had the picture frames out and were just finishing up with the vases. Then I made an observation: they didn't really have anywhere else to put blankets and plates and glasses and things. Also, the boxes they had left to unpack weren't big enough to contain blankets and plates and glasses and things. It was then I realized that different stores probably got different shipments.
So I paid for my hundreds of dollars worth of merchandise and drove to another Target in another state.
Okay, okay, so it's not
that
big of a deal. I live on the border. But whatever. It didn't take me long to get there because I was still riding the Missoni high.
I rushed in and--lo and behold--different stores
did
get different merchandise! This Target had the travel stuff, the kitchen stuff, and the--yes--the damn blankets.
Or actually only one. I could have sworn I grabbed two, but when I got home, I found I only had one. I also thought I bought three dresses and I only had two. And for some moronic reason, I apparently decided it would be a good idea to only get one of the medium purple tumblers. I do not understand. I'm still scratching my head about all that, but I think it was a combination of being caught up in the moment
and
being a sickface while doing it that confused me.
Anyway, I checked out with my stuff at Target #2, incurring more odd looks. Clearly, the 18 year old male cashier just didn't
understand
.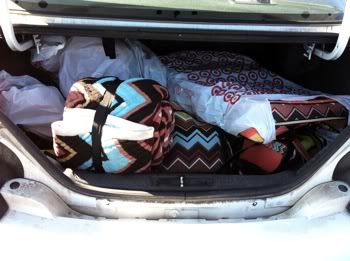 Ain't no junk in my trunk. That's Missoni, biatch.
In the end, I made quite a haul. Like I said, I picked up a lot of stuff for other people, but this is what I think I'm going to keep for myself: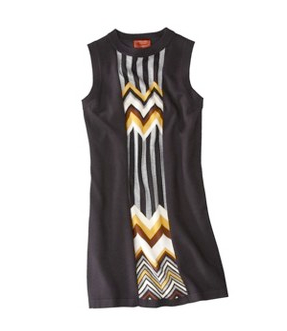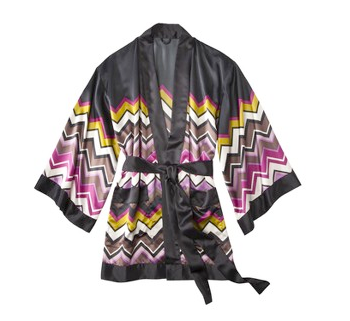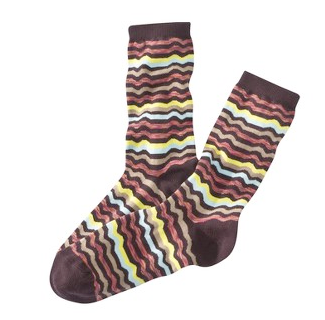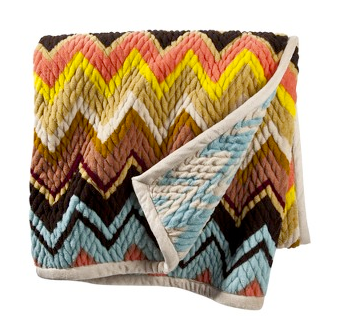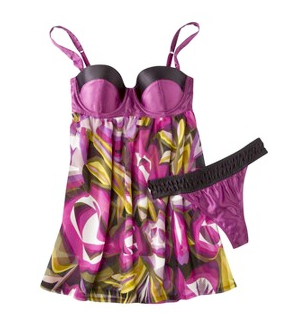 The quality is actually pretty decent for Target. If you can get your hands on any of the home stuff, I highly suggest it. It's all great for the price. I'm still having my minions (also known as my estranged boyfriend and my dad) scour their local stores, so for those of you who had your eye on the throws but weren't able to nab one, there's still hope.