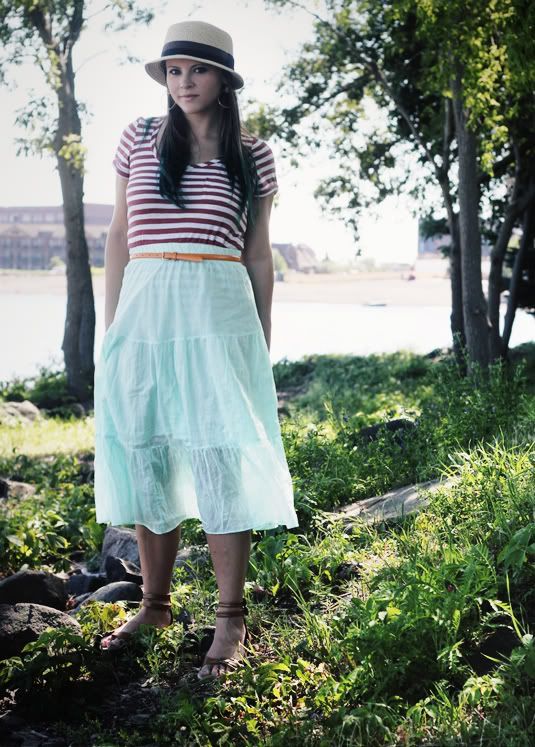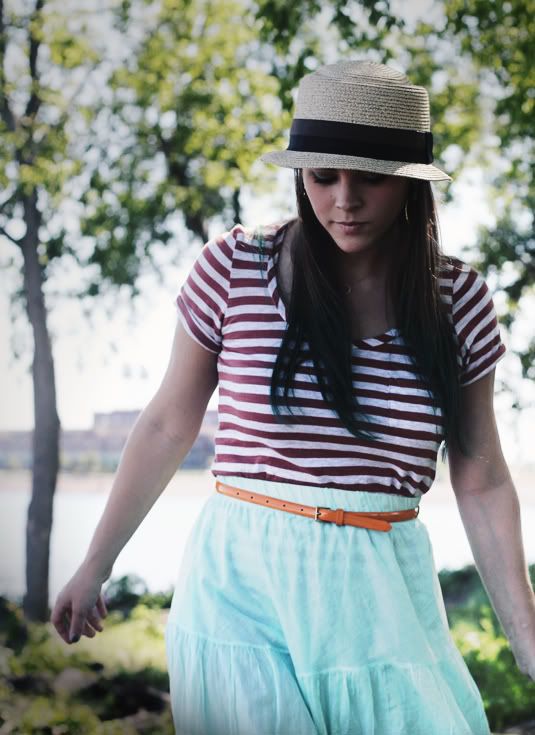 For the record, I think I'm wearing this hat wrong.
I bought this lovely skirt off
Steffy
. It's fun. It's flirty. And so am I, goddamnit. My favorite part is the color. So minty fresh. I've been wearing it a ton this summer, I just haven't photographed myself wearing it (surely you remember my month long departure from blogging...seems like it was just yesterday. Oh yeah. It was) much. But I did get pictures on this day, when my estranged boyfriend ("ex-boyfriend" doesn't seem right) and I went down to da lake. There were a lot of goings-on at da lake:


I peed on myself.

I got stuck in a tiny restroom with a bunch of high school girls changing into clothing from their bikinis.

Lots of T & A. Tons of T & A. Too much T & A for my small mind to handle.

We watched a guy jump out of his boat, swim to shore, walk around and curse for a while, and then take off on foot.

He never returned.

We also watched lots of police and fire trucks and rescue squads and that kind of thing pull up right onto the beach. It was hard to tell what they were doing, but it looked like they blew up some sort of hovercraft and then rode away on it.

They also never returned.

A real WTF day, if you will.
Happy loooooong weekend, y'all.
T-shirt: DKNY
Skirt:
Tea and Tulips
Hat: UO
Belt: J. Crew