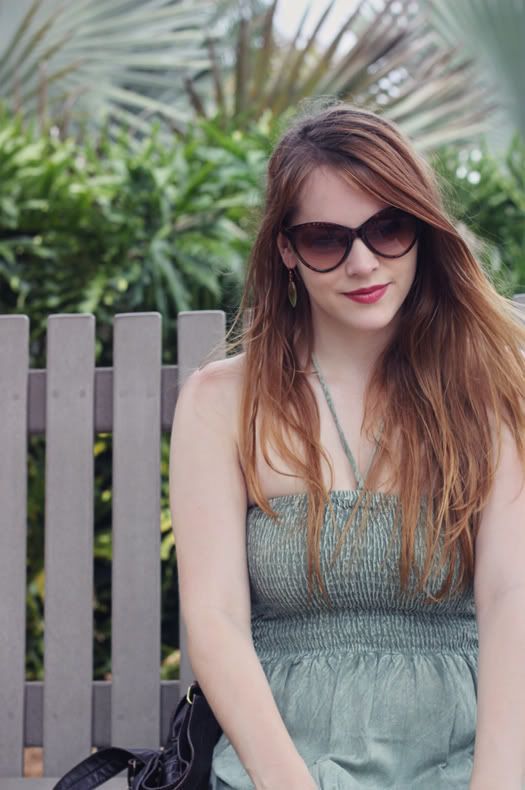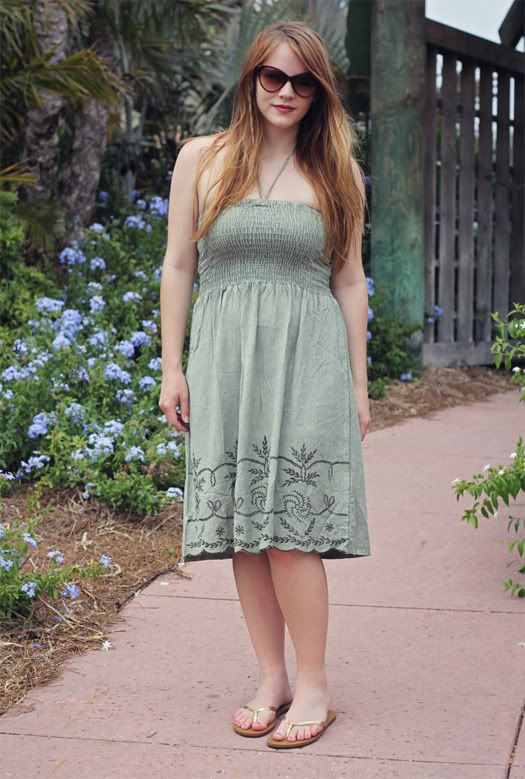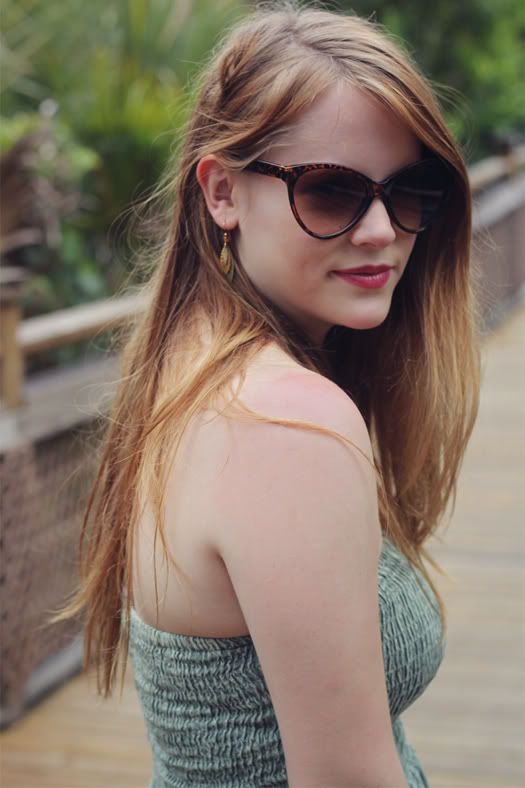 This is one of the simplest looks you'll probably ever see here at ol' Two Eyes in the Mirror. I love dresses, but I actually find myself shying away from them because they just make an outfit so simple, it seems (I believe I touched on
that subject here
, friends). That being said, when it feels like it's about 100°F out, a simple, loose-fitting cotton dress feels like a dream. You know what doesn't feel like a dream? Walking all over the place in goddamn 4-in wedges. Hence the wonderful flip-flops that are gracing my feet (I even got a close up shot for you! I know! What a classy and unique shoe choice! Don't they do wonders for my bloated-up calves? Look at how they accentuate that tan line! Oh my God, I'm a fashion genius).
I'm not sure if you can tell from these pictures, but the lady is on edge here. Why you ask? Because of the lizards, I say! I don't know how you people can live in warm climates, because it seems to me that where there is warmth, there is also an abundance of creepy crawly lizards. I hate to admit this here, since I think I've got some of you fooled into thinking I'm some bad ass mamacita (I mean, I did
brave the winter weather in heels and mini-skirts
, after all), afraid of nothing--not even death!!!! But um, yeah, hello. That is not the case.
I'm really not good with the fauna, if you will.
Those almost-cute lizards about the size of my forefinger evoke a massive amount of fear in me. I'm ready to bust out my "I love MN" shirt just thinking about it.
I'll take on a bear
, but lizards? Cannot. Handle.
Dress: Somewhere in Walt Disney World (thanks, ma)
Sandals: The flip-flop store in the MOA
Sunglasses: Urban Outfitters