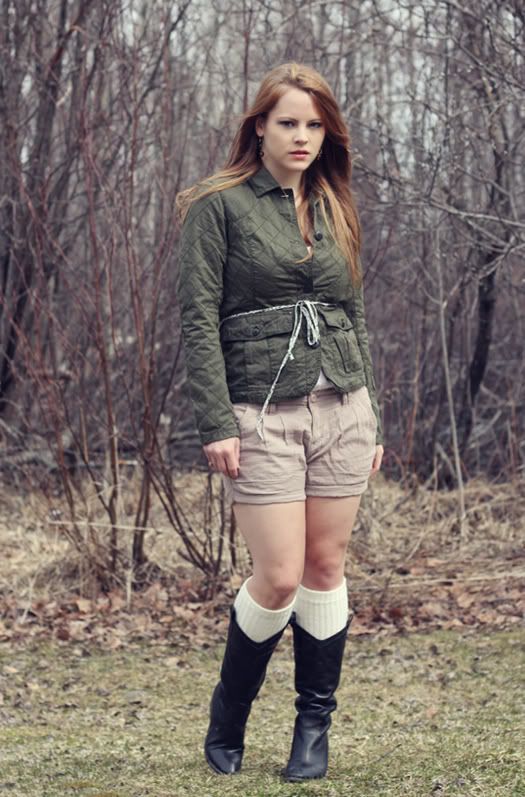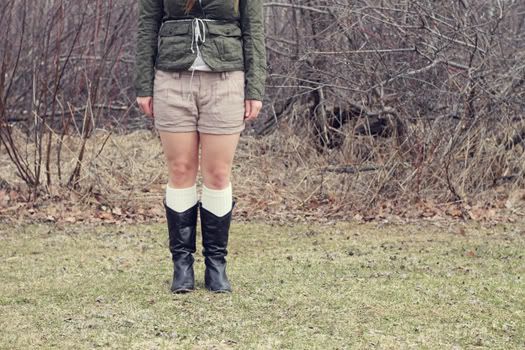 You know what? I like this outfit, and I like it a lot. In fact, I seem to like any outfit as long as this jacket is a part of it (see
here
, and
here too
! Notice how I refuse to wear it without a belt). I also like the idea of leg warmers under boots. I know leg warmers are more of a winter thing, but hell, it's barely been above 40°F lately, so what's the difference? I even like my ol' Kris Kringle boots here. What's this? Positivism? I know, I'm shocked too.
I have to admit, I was a bit jumpy today while I was out taking photos. I heard multiple times on the local news this morning that the bears are coming out, and they are hungrayyyyy. In case you didn't know (you can't really tell by looking at me, you know, so you're forgiven if you didn't), I used to have an intense fear of bears when I was younger. I rarely went outside by myself in the summers because I was a scaredy cat. I also used to babysit my mom when she was mowing the lawn by sitting on the picnic table with a book, throughly eyeing up the woods behind our house every 30 seconds or so for bears. I have no idea, mind you, what I would have done if I had actually saw a bear, considering I was just a 10 year old little girl and not
Timothy Treadwell
or something, but my heart was in the right place. Anyway, I guess you're supposed to make lots of noise to keep bears away, so here I am, modeling my outfit to "Big Pimpin'" on repeat, which apparently is the only song that made its way on to my phone. Enjoy!
Jacket: Eddie Bauer
Shorts: Aerie
Boots: Steve Madden