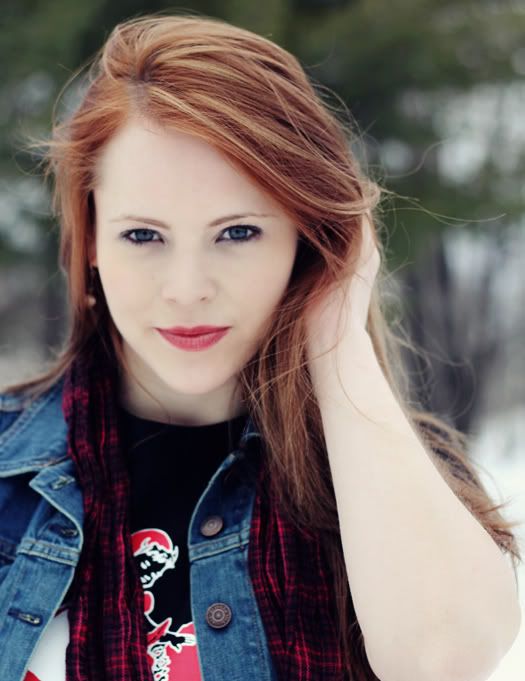 I notice I've been doing this pose a lot lately. I don't quite know what I'm doing. Hand as an earmuff?

Smeary red lipstick, plaid, and a Levi's denim vest just reek of 90's grunge, don't they? My boyfriend got me this shirt (Alkaline Trio is a great band! Listen to their older stuff, it's better) and I haven't worn it all that much because I didn't know how to wear it and still look like my stylin' self. I whipped this outfit up over the weekend. What do you think?
The weather has been fabulous here lately. Almost 60°F at my house yesterday. In February. In Minnesota. Unfortunately, I had to work all day, but today isn't too bad, either (considering the average high temperature for this time is about 25°F). But, of course, what goes up must come down...I hear there's snow in the forecast for this weekend.
Oh shit, I'm blogging about the weather.
Again.
Anyway, in other news, did you all see my
feature at Statements in Fashion
? Check it out if you haven't! Thank you to
Collette
for thinking of me! I loved answering all the questions (I think it has something to do with being vain, but who knows).
P.S. Anyone else notice the problem with my hair in the first picture (hint: look at the bottom. Now look at the top. Now look at the bottom again)? Not cool. I'm glad I'm not high maintenance when it comes to my hair, or I'd be having a bitch fit right now.
Vest: Levi's
Scarf: J. Crew
Dress (worn as a skirt): American Eagle
Shoes: Jeffrey Campbell