One of my goals for this year is to get organized. I think that, deep down, I
am
an organized person, but right now I have no way to be organized because I have so. much. stuff. So, mission one on my way to organizational bliss is to get rid of things I don't absolutely need. I started off with cosmetics and found myself
wanting
to throw a lot of it away, but I always came up with some crazy justification for why I should keep it. However, I stuck to my guns and remained rational. My make-up is now contained to one drawer and cosmetic bag, as opposed to an overflowing drawer, two cosmetic bags, and a random box. It feels so much better to not have so much junk laying around. Here's my journey in blog-form and some lessons I learned: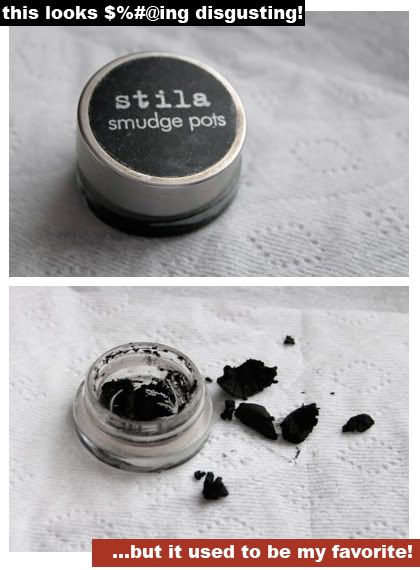 I remember buying this gel eyeliner pot in 2006. 2006 as in
five years ago.
It was my go to product back then, but I'm assuming sometime around early 2007 I found something that I liked better and stopped using it. I've seen it sitting around in my make-up drawer forever, but my nostalgia kept me from having the heart to toss it. I'm not sure what kind of person gets nostalgic over a pot of eyeliner, but let's save that for another day. Needless to say, the years it sat rotting away in my drawer did not treat it well: it completely dried up.
Lesson:
if it's been sitting untouched for years, it's probably not worth saving. Especially when it looks like this.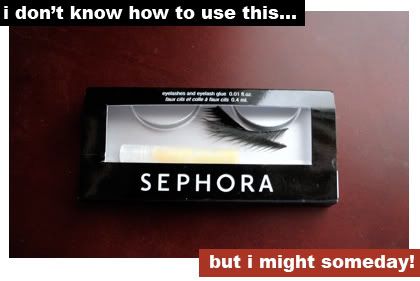 I bought these false eyelashes last spring. I was listening to a lot of Lady Gaga and decided I could use some falsies myself. I have a very unsteady hand and quickly got frustrated when trying to apply them, so they've sat in a box ever since. My instinct was to keep them since someday I
might
decide to play around with them again. I know myself better than that, though: if I don't have the burning desire to put fake eyelashes on today, then I probably never will. And if I do, I'll just buy another pair. They aren't that expensive!
Lesson:
if you don't see yourself using/wearing something in the near future, get rid of it.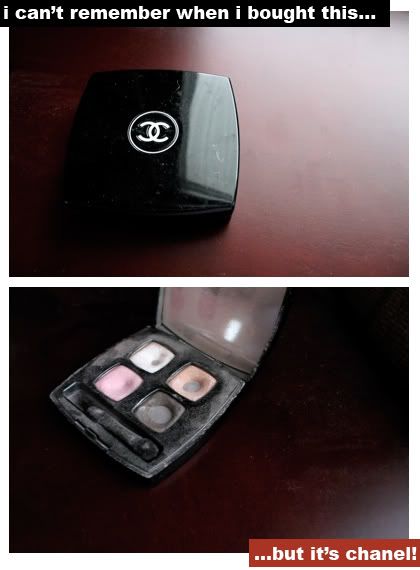 Inside the mind of Ashley: I bought it. I used it. Then, I stopped, and now I can't remember when I actually got it. I know I should throw it away. It's seen its better days, clearly. But it's Chanel! Chanel might be my favorite designer, besides Marc Jacobs of course. Maybe I should keep it...but I probably won't use it...so maybe I should toss it...but it's Chanel!
Lesson:
yes, it was expensive, and yes, it's a prestigious brand. But if you can't remember when you got it, it's probably been too long! Get rid of it, already!
I liked this powder, but it smelled absolutely awful! It's always smelled like that, so I don't think it had gone bad. I've used it before and I know it works well, but I clearly remember my boyfriend getting a whiff of my face and saying I smelled bad. Other people probably smelled me too, but were too polite to say anything.
Lesson:
if it's stinky, throw it away!
I ran into a few other products like this, too...they were way too old and smelled rancid.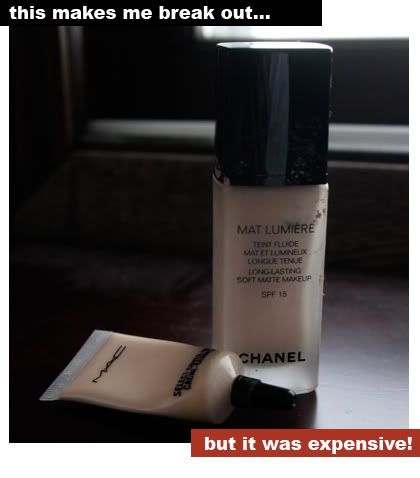 I used both of these products quite a bit. They work well, and yes, they were expensive, but they make me break out! I had a hard time getting rid of them since they are quite costly (the Chanel foundation was $60!), but I'd rather waste money than risk getting zits.
Lesson:
if you're allergic to it, for God's sake, toss it!
For additional motivation, here are the average shelf lifes for various cosmetics. I'll be the first to admit that I don't follow these guidelines to a tee, but it's a good thing to keep in mind.


Foundation: 1 year

Concealer: 1 year

Powder: 2 years

Blush: 2 years

Powder Eye Shadow: 2 years

Cream Eye Shadow: 1 year

Eyeliner: 2 years

Liquid eyeliner: 3-6 months

Mascara: 3-4 months

Lipstick: 2 years

Lip gloss: 1-2 years

Nail polish: 1 year

Do you follow these shelf life guidelines? Do you also have a hard time throwing away make-up, even if you don't use it anymore? Am I totally insane? Tell me in the comments!