Inspired by
Alyse's post
about her make-up collection, including an array of nail polishes, I decided to bring mine out and count them (and, of course, I inevitably took a picture, too:
woot woot
). I determined I have over 50 different kinds (I didn't include all of them in the photo), and, if you consider that each one, on average, costs $7, that's a $350 nail polish collection. Ew, I know.
Since I refuse to admit that summer is more than half way over, I thought I'd...celebrate? by choosing my top five favorite polishes for summer out of my collection. Here goes.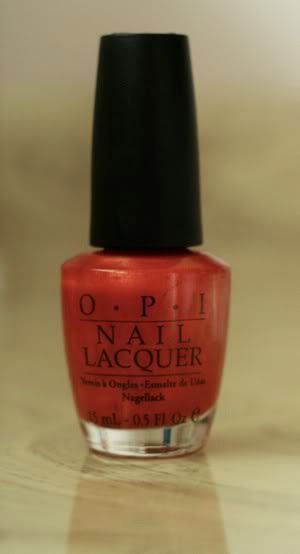 #1: a vibrant coral
Summer is the perfect time to sport cheery, bright coral nails. I bought O.P.I. "Conga-line Coral," as pictured, last summer and had a moderate fetish with it for a few months. It's less intimidating than coral lipstick, but still just as fun. I think the trick is to pay attention to skin tone. I chose a more red shade because (I think) I have yellow undertones, so an orange-based color would just be too much.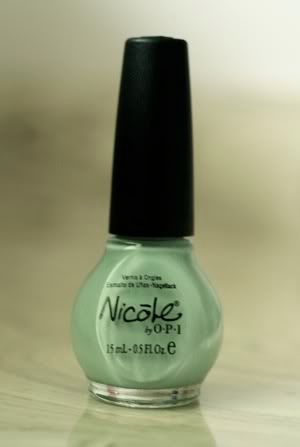 #2: a robin's egg blue (or green)
This seems to be a recent trend lately, and I'm just one more person jumping on the bandwagon. I just purchased Nicole by O.P.I.'s "Hint of Mint" and am in love with the color. I think it's, surprisingly, a very versatile color, and wore similar hues last winter and spring. I know Chanel has/had a similar shade out that I'm sure is wonderful, but I'm okay with spending a bit less and just applying a few extra coats to get the right opacity.
#3: a neutral
Seems boring, right? Not in the least. Neutral, beige polishes, like O.P.I. nail lacquer in "Sand in my Suit," look classy and polished (no pun intended). I also like going a little lighter, as seen
here
.
#4: a chocolate brown
I love this color, especially in August and September when the weather is transitioning. Revlon's "Totally Toffee" will be my go-to nail color next month.
#5: a hint of pink
A classic pink is always in style. Pink nails look so nice up against just about anything, but I love how they look with summer's floaty white dresses and tanned (or untanned, like some of us *ahemmeahem*) skin. O.P.I.'s "Heart Throb" is a color I tend to fall back on when I just want something more normal.
Tell me:
what are your favorite nail polish colors for summer? How many polishes do you think you own?
* This is probably going to be my last post for a while (a while as in no more than a week) because, as you might have read, I'm on vacation and, as you did not read because I did not know, there isn't any free wi-fi here, and getting the internetz in your room is extra $$$ (which is kind of...ridiculous, considering it's 2010 and all) and I'm a cheapskate. So, be back soon!