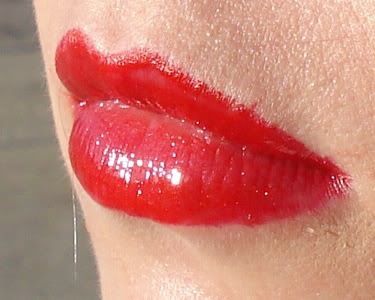 #1. Improperly applied red lipstick.
If you're going to wear red lips, at least figure out how to do it properly. This was the worst picture I could find, and it's not even that bad. I've seen way, way worse. Lipstick smears...on the teeth, on the cheeks. Lipstick that has faded, but the bright red lipliner remains strong and steady. Lips that are in bad condition so they're peeling, leaving big red chunks hanging from one's lips. Oh yeah. I've seen it all.
And I hate it.
#2. When people just bleach their hair and fail to tone it.
I'm no professional or anything, but I'm pretty sure when one's hair is dark to begin with and they bleach their hair, it takes on an orange-y appearance. That, my friends, is why you used a toner (all together now, T-O-N-E-R) to get rid of the orange tinge and get something that is more likely to resemble "natural" blonde.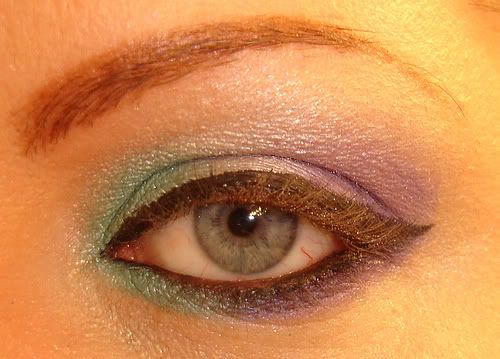 #3. Heavy black eyeliner with no mascara.
Especially if you have blonde lashes. This just looks dumb, like something's missing. I've noticed a lot of teenagers favor this look, and it drives me up a wall. Finish what you've started. If you're going to put on black eyeliner, finish it up with a coat or two of black mascara to keep the look polished.
#4. Uggs with sweatpants.
I hated Uggs for years and resisted them when everyone and their brother were giving in. I let my guard down last year and bought not just one, but two pairs of Uggs, and I was a changed wo-man: I love my Uggs to death in the winter. BUT. I don't wear them with baggy sweatpants. Uggs go with two things: jeans/pants that are skinny enough in the leg to be tucked into the boot, or tights. They. Do. Not. Go. With. Baggy. Sweatpants. Ever.
#5. Ed Hardy.
Need I say more?
So...I want to know. Do you hate these things as much as I do? What are some of your fashion and beauty pet peeves?