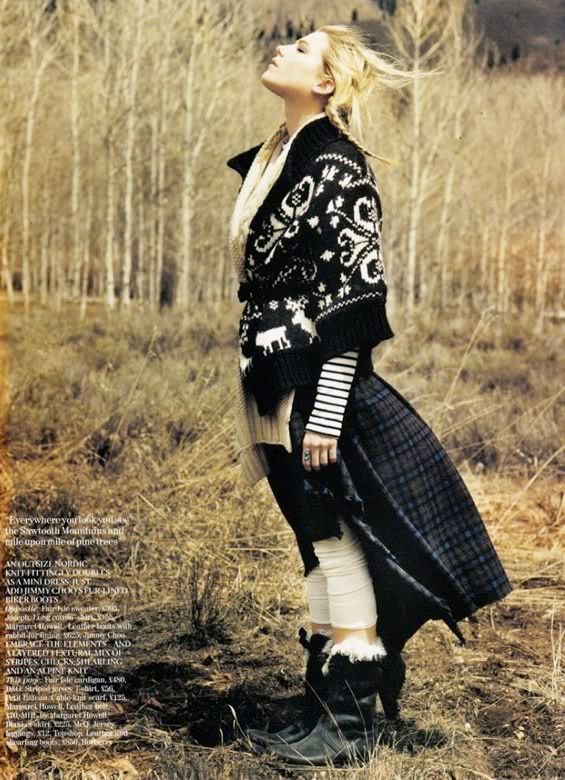 "My Own Private Idaho" by Alasdair McLellan

I'm not really sure why I like these images so much. The model has the same damn expression in every photo. I've been to Idaho, and I really don't think it's anything special. Hell, I don't even like chunky knits very much. But when I saw these in this November's issue of
Vogue UK
, I swooned (and would have actually bought the magazine if I wasn't so cheap...I appreciate you,
Vogue UK
, but not for $13 USD). The photography is good. Very good. Mine hasn't been lately, which is part of the reason why I'm posting someone else's images instead of my own, but I'll get to that in a minute. These pictures remind me of my old road trips "out west." I haven't been on one in over a year now, and I need one. Bad.
If you haven't figured it out, I've been really busy lately. My new job has got me working about 45 hours a week (before, I was just putting in a 20 hour week at my internship site). I've got a bunch of school stuff to do, too, so, like I already pre-warned you, posting is going to be a little scarce until approximately December 18th, which is when I take my last final exam (ever)! It's less than a month away! I'm excited, but a little nervous because I know the time is going to fly by and I have so much to do between now and then.
I seriously have about four or five outfit posts done, but I'm just not crazy about any of them. I'm having issues figuring out my camera settings now that there is an excessive amount of light to contend with (winter = no leaves on trees), and most of my pictures turn out overexposed. In addition, I think sometimes I try too hard to make sure the photography is the best it can be, and, as a result, my actual outfits--which is what this blog is actually about!--suffer. I'm probably going to be taking it indoors now until March rolls around since it's getting so cold, so perhaps this won't be an issue anymore. Three cheers for boring walls as backgrounds?