Ahh. Bare Minerals. The award winner. The revolution. The wonder make-up.
The website
boasts its miracle-making qualities, telling the consumer that using the product will give you a flawless, picture-perfect face, and that, "your skin will love you for this."
Of course
they have to hype their own product! But what if, for some people, their claims are flat-out lies?
I'm going to tell you a little story. Somewhere around January 2007, back in the day, if you will, I was planning for a big date I had the following week. I was your typical teenage girl: I wanted to look impeccable, but I had a few blemishes every now and again, and this was one of those times. My powder foundation just wasn't providing the coverage I needed (probably because I had no idea how to properly apply it), so I decided to take a trip to my local Sephora to get something better. There, I found a Sephora employee and asked, "Hey, do you know of
anything
that would cover these zits better?"
She walked me over to the Bare Escentuals section and gave me a demo on my own face. With a few swirly motions, my zits were totally covered. I was in love, and immediately purchased the starter kit and went to town.
I faithfully kept using my Bare Minerals make-up, believing it was the best beauty product I'd ever owned. I kept getting more and more pimples, and, as a result, applied more and more Bare Minerals foundation to cover them. I didn't think anything of my constant breaking out; I'd struggled with acne in my earlier teen years, too. I figured this was a natural continuation. The following are all pictures of my skin from the time when I used this product:

Fast forward a little over a year, maybe October 2008. All of a sudden, it hit me: "You know," I said to myself. "My skin wasn't half this bad before I started using Bare Minerals. I wonder if there's a connection?" So, I did a little experiment. I stopped using the product completely. It wasn't easy, since I had difficulty finding a product that covered as well as Bare Minerals had, but I carried on. A week later, my skin seemed like it had been improved. A month later, with my Bare Minerals foundation sitting quietly in a pile of dust in the corner, there was no doubt that it was the product that had been causing my acne.
No, it doesn't equal a picture of a bunch of Asians in birthday hats, but it does equal A GOOD TIME! No more Bare Minerals? No more acne!
But why?
A little unofficial research on the interwebs (meaning I am not going to start citing sources; I do enough of that in school) and I discovered that Bare Minerals contains an ingredient called
bismuth oxychloride.
Bismuth itself is a naturally occurring metal. However, it undergoes its time in the lab and is transformed into the synthetically prepared form we can find in some of our mineral make-ups, called bismuth oxychloride. It makes the make-up adhere to our faces better, and also provides sheen. Although it has been found for years in traditional make-ups, it was not one of the main ingredients like it is in mineral make-up today. I cannot find an exact statistic, but many women with sensitive skin have found that this ingredient has clogged their pores, caused cystic acne, and flared up their rosacea. Others have found it made their skin itch.
I have totally stayed away from any mineral make-up since my discovery. Many mineral make-ups, however, do not contain this ingredient, so it's not fair to say that
every
mineral make-up is going to cause people problems. Just be sure to
always
read the label and be aware of what you're putting on your face!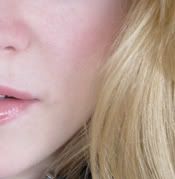 This is my face about six months after throwing my Bare Minerals away. Today, I use a combination of concealer and powder to cover any redness. I get, on average, about one pimple a month.
If you want to learn more about mineral make-up and bismuth oxychloride, just do a simple Google search, and you'll find more information than you ever wanted!
I've had this post written for over six months now. I'm a content writer at heart, and, as much as I love posting pictures of my outfits and the like (and I will be continuing to do so!), I would like this blog to have a little more substance than your average "fashion blog," (hence the posting of this article and the "Love Your Body Day" interviews). I'd love to hear your feedback on this, and if there is anything you would be interested in learning (how-to posts, anyone?), please let me know!