October 20th
is
Love Your Body Day
. To celebrate, I had the privilege of interviewing five fabulous fashion bloggers from different walks of life to share with us their stories, their thoughts, and their perspectives on the importance of a healthy body image. The fashion industry is infamous for endorsing "skinny," and, in much of the world, the message we get is that "thin" is synonymous with "beautiful." There is an amazingly heavy emphasis placed on appearance, and, as fashion bloggers, this is definitely true for us. Today is Love Your Body Day, so love and celebrate your body for all it can do. Always remember: you're beautiful!
Rio describes herself as a fairly typical California girl: she loves the beach, sunshine, and being outside. She calls herself a bit of a hippie, "like most people in my town." She's a self-proclaimed "science nerd" who likes to study rocks, but, at the same time, she's also a beach bum who doesn't like going to school. Rio likes to hike, swim, and ride her bike. She also likes to buy new clothes and "play dress up in them!" Overall, Rio says she's basically just a dork who spends way too much time with her crazy puppies! She is also the owner of Showers of Sunflowers!
How are you different from the majority of other fashion bloggers?
I am a short, curvy, hippie girl with tattoos and piercings who doesn't really follow fashion trends or know who has the hottest Spring line coming out. I like reading blogs that are written by modelesque beauties who have fabulous photo shoots, but I also like reading style blogs written by people who have different body-types and are all different shapes and sizes with different styles. I'd like to think that I offer a slightly funky vibe to the blogging world and show that good things can come in small packages...even when those small things have big booties!
Why did you start a blog and what does it mean to you?
I am not much of a fashionista, so it's ironic that I have a fashion blog! I've always had a funky style though, and I've always worn whatever I want, whether or not it is "in style." I started a blog as a creative outlet, after reading other people's for a while. I also have a serious love of buying clothes, so I hoped that the blog would help me stop spending money... epic fail! ;) It also is an amazing community full of the nicest, coolest people from around the world.
Has owning a blog affected you on a day to day basis?
Having a blog has made me more aware of what I wear on a daily basis. If I wear jeans and a t-shirt, I don't stress that I don't look super cute, but I do try to actually put some effort into my outfits now. I also try to experiment with my clothes more now, mixing prints and trying new cuts or colors. I also have found that I can smile in pictures now without feeling awkward!
How important is it to be confident with your body?
Body confidence is everything. We all have insecurities, and we all have moments (some more than others) of feeling down on ourselves, but it's about pushing through that and still liking yourself overall. I don't always like everything that I see in the mirror, but I try to remember that my body is good to me and has gotten me this far in life, so I'd better be darn thankful for it.
What advice would you give to others to help promote a healthy body image?
If you think about your body as a living, breathing being, it's easier to appreciate it than if you just focus on all of the little superficial things. Working out and eating right can also do wonders for your body confidence. When I go a while without exercising or eating healthy, I feel the effects right away, which immediately make me start to feel crummy about my body. When I get back on top of it, I start to feel better and am more likely to notice the good rather than the bad. Also, good fitting clothes are key!
Ralph is a lawyer, a motorcyclist, a film-lover, and a transgendered person. "I'm a lawyer because my immigrant-parents wanted me to achieve the highest level I could in American society. I'm a motorcyclist because I love the visceral sensations of dancing with forces of nature. I'm a film-lover because I respect and savor art. And, I'm a transgendered person because, although society classifies me as male, I'm actually female inside." Ralph also owns a blog: Shy Biker.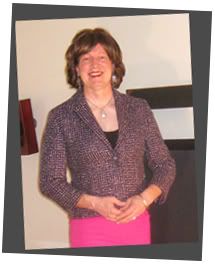 How are you different from the majority of other fashion bloggers?
I'm publicly male. Virtually all other fashion-bloggers are female, so this sets me apart in a superficial way. I don't believe, however, that I'm really different from other fashion-bloggers, which explains why I'm comfortable and happy among them.
Has this affected you on a day to day basis?
My struggle with gender has been with me every day of my life. Fortunately, I no longer view it negatively (i.e., ruing what I can't have) and, instead, view my difference positively (e.g., appreciating insights I have into the minds of both men and women; enjoying experiences commonly had by each gender separately).
Why did you start a blog and what does it mean to you?
I had a non-fashion blog for several years which evolved into a fashion-blog when I started posting outfit-pictures. I was seriously apprehensive about doing that because I was unsure how people would react. Fortunately, the reception was warm and supportive. Now, the blog is central to my life and provides a depth of joy I never expected to find in public life. I use the blog as a means to express my authentic self and the importance of that, to me at this moment, is critical.
How important is it to be confident with your body?
We should all be confident and happy with our bodies. Nature gave us what it did and we should appreciate that gift. Having arms and legs and hair is a fabulous opportunity we should cherish.
Equally as important, we should realize that our body is merely a shell housing our inner-self, which remains constant when our body changes through events like aging. Changes to our body need not affect our happiness because those changes don't affect our inner-self unless we let them.
What advice would you give to others to help promote a healthy body image?
To make a firm distinction between personal appearance and social appearance. The body we see in the shower is who we are. The body we exhibit to the public can be, and usually is, an altered version of that. There's nothing wrong with grooming and enhancing our bodies through the variety of tricks available to us: e.g., makeup; false eyelashes; Spanx. Social appearance is, essentially, a performance and, like actors, we get to wear costumes.
Where people get into trouble is when they confuse personal and social appearances. It's dangerous to internalize social norms of beauty and become insecure over perceived deficiencies. For example, a century ago, society considered women to be beautiful if they were much larger than today. Standards of beauty change over time and differ from one society to another. You can play with social standards but don't internalize them: they have no absolute validity and they don't negate the real beauty of your personal appearance. You are beautiful regardless of whether your personal appearance conforms to today's accepted version of social appearance.
Is there anything else you would like to add?
Focus on the good things in your life and de-emphasize the bad. Be grateful you're alive, have your limbs, and aren't suffering from serious illness or injury. Try not to succumb to the common practice of regretting small things missing from your life when so many wonderful things surround you. Be happy and smile!
Janelle of Bare Study is a 22 year old girl. She is from Vancouver, Canada, but was born in the Philippines (Manila). She is currently taking up accounting.
How does Canada's cultural perception of the "ideal body image" differ from the standard definition of beauty in the Philippines?
I don't actually think there's that much difference in the cultural perception of "ideal body image" between Canada and the Philippines. I just noticed a lot of bullying when you're "fat" in the Philippines compared to in Canada. I'm not too sure why, as I expected it to be the other way around. The Philippines loves the pretty face and fair skin. If you come across celebrities there, you'll notice that most of them are fair skinned.
Which places more of an emphasis on physical beauty: Canada or the Philippines?
Although I've heard of extreme bullying here in Canada, I haven't actually experienced it first hand, nor with my friends being bullied. So personally, I think that the Philippines places more emphasis on physical beauty. I think that the more light skinned you are, the "prettier" they would think you are.
Why did you start a blog and what does it mean to you?
I actually first gained interest in make-up. Then, I came across a few fashion bloggers, and I found myself checking back on them everyday. That's when I discovered my love for fashion. It's not like I never had it in me, but it took until then to realize that I have this passion or great interest in it. I've also wanted to blog for so long. I'd been creating different accounts because at that time, I didn't know what to blog about. Until everything fell into place, discovery for my love for fashion, make-up and travelling, and being inspired by so many other bloggers, I've decided to finally create an account and stick with it.. And now, I'm loving it. :)
How important is it to be confident with your body?
It is very important because confidence, not only in your body, but your whole self-confidence, is very hard to fake. When you're taking photos (or even with what you write), it will show if you are happy with what you have or not. And as I've observed, negativity does not draw people towards you.
What advice would you give to others to promote a healthy body image?
Water, fruits and vegetables and exercise are a must in being healthy. Being skinny is not everything. Make sure to take care of your body, and this does not only include your external physique but also your health. Being healthy and happy will exert radiance and a beautiful glow, which I think is gorgeous.
Is there anything else you would like to add?
These are based on my personal experiences and might not be the same for everyone else. But no matter what, I think it's the same for everyone that beauty comes from within. I hope that everyone will find that part in them to start believing in themselves and love their body. :) "Outside show is a poor substitute for inner worth." - Aesop.
Collette is many things: a freelance writer, accounting manager, volunteer, vegetarian, true friend, fashion blogger, and totally addicted shopper (not to mention a "mad crazy" jewelry lover). Above all else, she describes herself as a loving mother: her two children mean the world to her. Collette owns Statements in Fashion.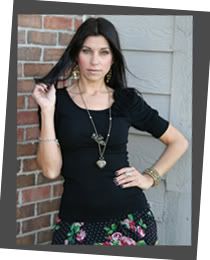 How are you different from the majority of other fashion bloggers?
I think I'm different from some other fashion bloggers because my style is always changing. I'm not really "set" into one look. One day you may see me wearing something really edgy, the next I'll be in a vintage dress. I'm always trying new fashion trends and thinking of unique and different ways to incorporate items into my outfits.
Why did you start a blog and what does it mean to you?
I started Statements in Fashion as a way to connect with other bloggers who are just as obsessed with fashion and styling as I am. I love connecting with people and forming new friendships. I have developed new business relationships with sponsors as a result of the blog as well. As a freelance writer, I have been given the opportunity to connect with various publications regarding upcoming writing opportunities. Statements in Fashion has become a huge part of my daily life. I work on it several hours a day, and make time to interact with each and every one of my followers. I refer to my blog as " my other child." If you put time and love into something you are passionate about, it will grow into something bigger than you ever imagined.
Has owning a blog affected you on a day to day basis?
I wasn't prepared for the blogging community to be as supportive as they have been. It truly is a group of people who are just as passionate about blogging and fashion as I am. I started my blog just two short months ago and have over 335 daily followers. The feedback from fellow bloggers has just been so fantastic. I'm meeting new people each and every day!
How important is it to be confident with your body?
I think it's very important to be confident with your body. As a person that used to be overweight, I really cant stress this enough. No matter where you are in terms of weight or superficial things about yourself that you wish you could change, accepting "you" for you has to come within first. If you feel good about yourself, you instantly boost your self esteem and portray that to others around you.
What advice would you give to others to help promote a healthy body image?
Ive always been a believer in the phrase, "don't stress about things that you can't control." There are many things that we are very much in control over with our own bodies. Any kind of actual change has to do with breaking old habits. If you need to lose a few pounds, join a gym or a weight loss program like Weight Watchers. Grab a friend to join with you. The buddy system really helped me when I was losing weight. It's great to be accountable to someone other than yourself. If you are in a weight transition, don't make the mistake of wearing big, bulky clothing. Many people think doing this makes you look thinner, when it actually does the complete opposite.
A daily diet change can instantly make you feel better about your body image. I became a vegetarian after losing a good deal of weight. I was never a big meat eater, so the change was really easy for me to make. Being a vegetarian to me, is a healthier lifestyle that just makes more sense with my daily eating habits and ethical beliefs.
Is there anything else you would like to add?
I think the most important thing I could add as far as body image goes would be to just be yourself. In a world where everyone is constantly comparing body types, quickly tiring of the newest trends and looking for the latest and greatest of everything, we need to accept ourselves for who and what we are. Have the strength from within to change the things that we can, and to just accept those that we can't. You don't have to be a size zero to be happy with the way you look. You don't have to be able to afford certain designers to feel good about your wardrobe. Each and every one of us has wonderful and unique qualities. Find yours and embrace each one.
Charlotte is a 20-year-old student and blogger from the United Kingdom. She is currently studying in the U.S. for a year. Fashion blogging for 10 months, Charlotte loves the range of shapes, sizes, and styles she finds in the blogging world. Charlotte is the owner of Girl Next Door Fashion.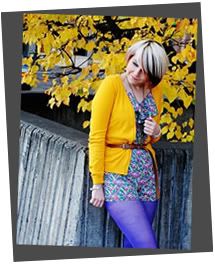 How does America's cultural perception of the "ideal body image" differ from the standard definition of beauty in the UK?
I wouldn't say it's altogether too different. We have the same difficult line between a significant proportion of the population being overweight, and constant criticism of celebrities gaining weight. We have the same problems of constant berating women for the way they look, while also encouraging women to be confident with who they are. In my experience here in the US though, British women seem to embrace fashion much more as an outlet to express their body, instead of hiding in jeans and hoodies. We encourage women to wear belts to accentuate their curves and celebrate both the English pear shape, and the pale, milky skin of the English Rose. Yet so far I seem to find many American girls who are confident in their bodies and wear whatever they want because of this. It's reassuring.
Which places more of an emphasis on physical beauty: the U.S. or the U.K.?
I would probably say the US. There are dozen more advertisements in your magazines. Watch one TV show and you find at least one infomercial for protein powder or an miracle weight-loss scheme. This shocked me when I came to the US. The American media seem to encourage weight loss at the expense of health (I don't believe that meal-replacement drinks or protein shakes are beneficial to the body), and weight loss seems to be everything. Every person on every commercial is instantly a better person with a better life after weight loss, and this gives unrealistic expectations. Cosmetic surgery also seems to be much more common in the US, but I don't know if that is really the case.
Why did you start a blog and what does it mean to you?
Blogging is an interesting and cathartic experience. I have also been a girl with low self-esteem. A little unsure of myself, perhaps a little under-confident on the inside. Blogging encourages me to take good care of myself, to make an effort in what I wear and feel good about myself. I love knowing that people read my blog, that people care and are interested. I started a blog primarily to write. I want to be a journalist, and all I've ever wanted to do was write. I wanted to have something else to put on my CV. Something to make me stand out in a job interview. I don't think I ever expected to learn so much from it.
How important is it to be confident with your body?
Incredibly. You and your body are one. And it's easy to hate it. But it is an amazing thing. It does so much for you. I am hardly going to pretend I always love my body or that I ever have or will. It's a constant love-hate relationship. But I have come to appreciate it more as I've gotten older. Confident people are the ones who get far in life. Body confidence is key.
What advice would you give to others to promote a healthy body image?
Don't compare yourself to other people, be that celebrities or friends. Learn to love your body for what it is. Be active. Eat healthily. Let your body be the best it can possibly be. I always hated the gym, but now I love to go to help me feel good about myself. Do something that you love. And don't define yourself by the size of your thighs. And don't let anyone else define you by the way your body looks. Be who you are and be the best you can be.
Is there anything else you would like to add?
Body confidence is a constant battle. I was a chubby child and I never really escaped from that. I spent half my life being the fat kid, and it ruins your confidence for life. My mum has always had body issues and they were passed down to me. I spent a long time hating my body, and it's hard to get out of that mind set. Body confidence is difficult because everyone's body is different, and everyone's idea of how they "should" look is different. And there's a difference between being overweight and unhappy and needing to lose weight, and thinking you need to lose weight when you don't. I don't know where that line is. Be happy with who you are, and only change yourself if it will make you a happier person. But remember, if you lose weight the only thing that will change is the size of your jeans. Weight loss isn't a quick fix to happiness, but self-love is. Blogging has taught me that you don't have to be a size 0 to love fashion and to be stylish. Bloggers come in all shapes and sizes. Be inspired by real women, not the ones you see in magazines.
What's your story?
Share your thoughts on lovin' up your body in the comments!