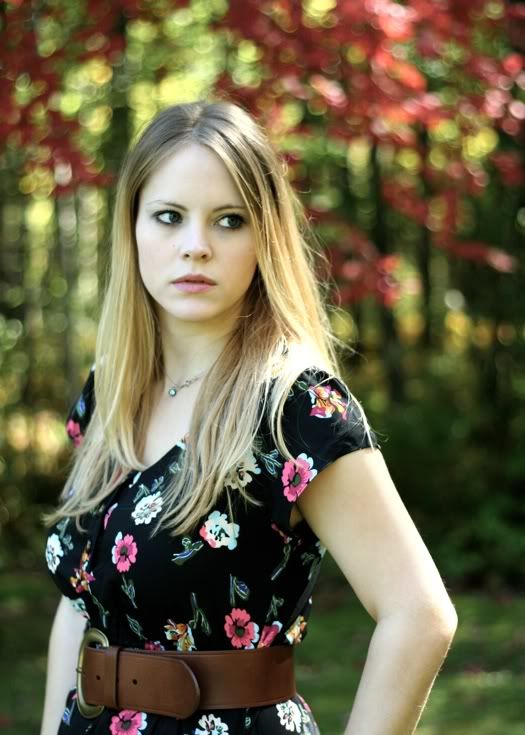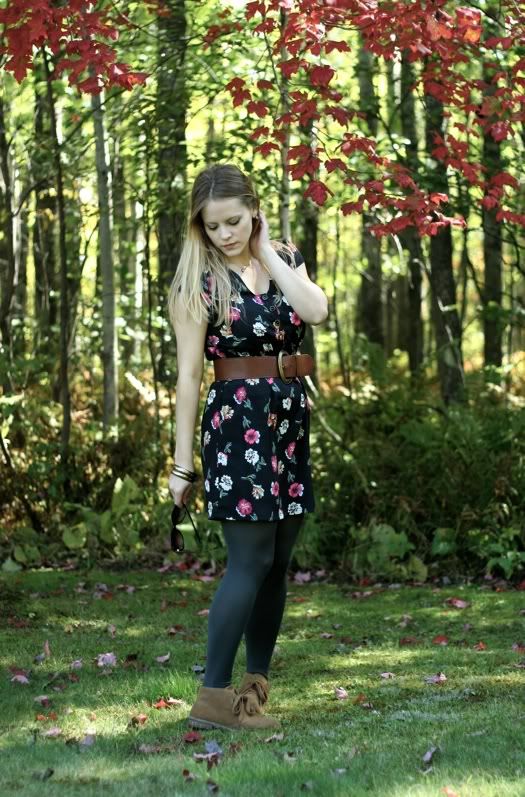 I have a feeling this tree is going to get used and abused in photoshoots until the very last leaf has fallen to the ground (and probably even then).
I've been in a bad mood for the past few days. I'm run down and icky (I always get my seasonal cold right after school starts, so I'm due), and running outside to take pictures just about does me in for the rest of the day. "Work" blows, of course, and I am so not motivated in the academic department, either. I took time off of "work" Friday to go talk to a professor with whom I am doing an independent study project with. I waited nearly an hour and then had to take off because he still hadn't gotten to the appointment before me yet. Needless to say, I was quite pissed.
I also haven't had much time to eat lately (plus, there's absolutely nothing good in my house: I ended up having pudding for breakfast yesterday because we're out of real breakfast foods) so it would appear I have lost weight. My belt (pictured) doesn't quite fit anymore...I'm going to have to get someone to punch a new hole in it for me, since it's on the last one available.
I'd like to thank the lovely women behind
Thrive on Novelty
and
Everyone Loves Lipstick
for awarding me
the sunshine award
! I truly appreciate it! I'm supposed to pass it on to 12 fellow bloggers, but I'm going to cheat and not do that, since I try not to pick favorites--I read so many blogs and they're all great in their own way! Thanks again you two. :) And, while I'm on a roll, I'd like to thank everyone for their continuous sweet comments on my blog! It totally makes my day, I swear.
ALSO
...I'm thinking ahead, and I'm kind of concerned that, as the weather gets colder, I'm not going to be able to get outside to take pictures for outfit posts as often as in the summer months. I can always shoot inside, but does anyone have any ideas on what they'd like to see on my blog, occasionally, besides outfit posts? Let me know in the comments or drop me an email!
Dress: Tucker for Target
Belt: Urban Outfitters
Sunnies: Juicy Couture
Boots: Blowfish