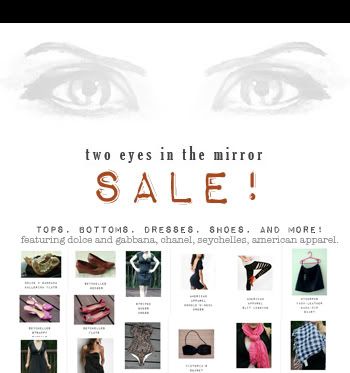 Introducing the Two Eyes in the Mirror Shop

Every year about this time, I clean out my closet and do an Ebay sale. This year, I'm trying to sell the majority of my items sans-Ebay. So, go check out the sale! There are about 40 items up right now, ranging from a pair of Chanel sunglasses to American Apparel basics to no-name accessories. Most items are new and unworn (except by the hangers in my closet...I have a lot of stuff that has hung in my closet unworn for a year or two), and--at least in my opinion--are moderately priced based on label and condition. Sizes are somewhat varied, too, so even if you aren't my size, go check it out.
And...
This blog is approximately 3 months old (not really OMG-worthy, but what the hell), so to celebrate/act as a little promotion for the sale, I'm doing a small giveaway. Actually, it's more like a raffle, but here are the details:
1.
To be admitted into the drawing,
you must be a follower
. If you've been a follower for a while now, great. If you aren't yet, go and do so.
2.
Comment on this blog and A)
tell me how you are following me
(Google or Bloglovin'), and B)
leave a way for me to contact you
(either URL or email address).
This will net you
1 entry
into the drawing.
If you mention the Two Eyes in the Mirror Sale on your blog
, you'll get
2 additional entries
(make sure you comment on this post and tell me that you did so). And, if you have been a regular commenter on this blog for a while now (I'd say there's about 10 of you, and both you and I know who you are), you get
another entry
. Make sense? I think so.
I'm offering
three prize "packages
," and there will be
three winners
. The person whose name I draw first will get first pick, the second person second pick, and so on. So, if if winner #1 wants prize B, winner #2 gets to choose from prize A and C, and winner #3 gets the remaining prize. Anyway, speaking of prizes, here's what you can get:
Prize A: MAC Cosmetics
Mac Eye Shadow in Vapour (a light beige neutral) & Mac Lip Pencil in Whirl
Prize B: Sephora Cosmetics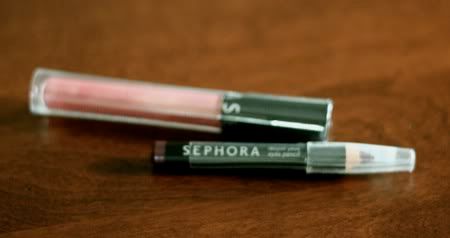 Sephora Jumbo Eye Pencil in a dark purple & Sephora lipgloss in #06-Fresh Peach (Shimmery)
Prize C: Floral Scarf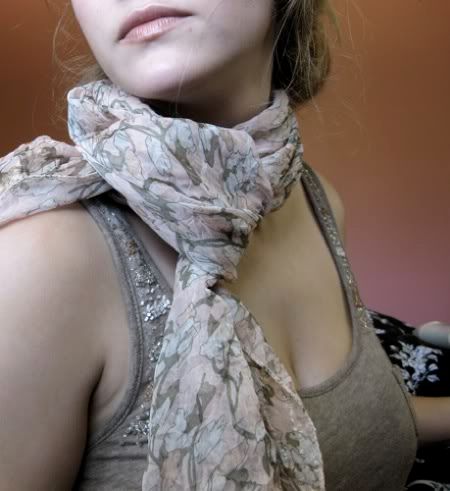 Adorable floral scarf (50% silk, 50% polyester) purchased from a local department store (my go-to place for scarves). I have one exactly like it. We can be twinnies!
I'll be drawing names old skool out of a hat. Ends
Friday, September 3rd at 11:59 p.m. CST
.