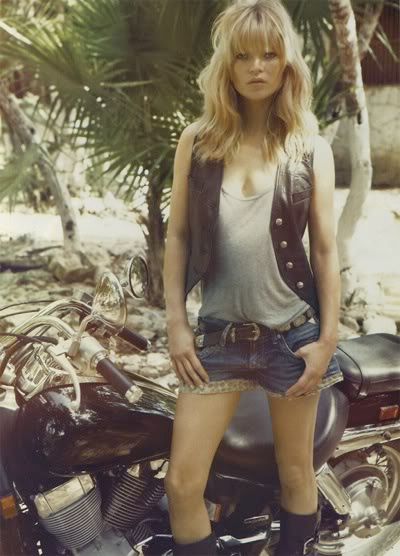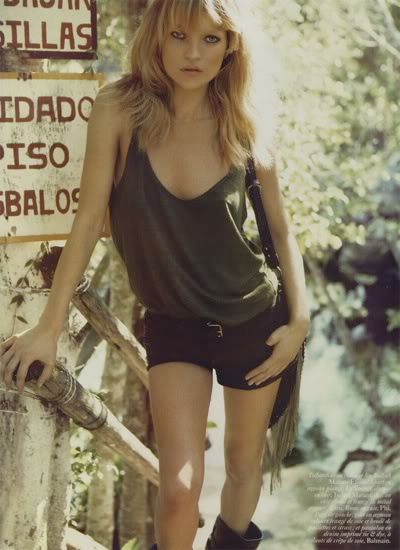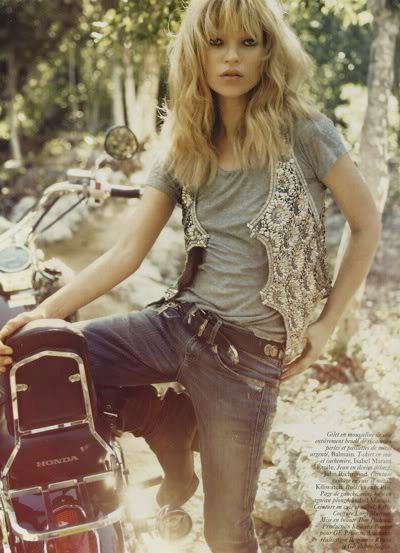 "Sur La Route" photographed by Inez Van Lamsweerde & Vinoodh Matadin

Most of the time, I look at editorials in fashion magazines more for the photography than the actual clothes, since the clothes tend to be a bit extreme and I find it hard to relate to what I'd wear in real life. This editorial, featured in the April 2008 edition of
French Vogue
is not like that. I've always been intrigued by a look my mother not-so-lovingly refers to as "biker chic," so these photos really do it for me. Most of all, the editorial features the lovely Kate Moss, who I have a tiny bit of a girl crush on. Inspired by these photos so much, I created a little "get the look" section, featuring pieces inspired by this editorial. For real life, I'd probably turn down the harshness a tone or two by wearing more neutral make-up (NOT heavy dark liner) and a sweeter hair style (NOT that messy, overgrown mullet-thing).


TOP ROW: Diane Von Furstenberg, J. Crew, Urban Outfitters, American Eagle, Miz Mooz, Alexander Wang, MIDDLE ROW: Sam Edelman, Horse+Nail, Rich & Skinny, Forever 21, Urban Outfitters, BOTTOM ROW: KUT from the Kloth, American Eagle, Top Shop, Frye, Linea Pelle

* I am unofficially officially on vacation, so I'm going to be changing up the posts a bit. I'm leaving for Florida in a few days and plan on packing lots of tennis shoes (for theme park walking) and, for the most part, rather unstylish clothing (partially because it's going to be HOT and I'm not going to be a slave to fashion if it means nearly passing out from heat stroke, and also because I think I have an irrational fear of my luggage getting lost, so I don't want to pack anything I really like and would miss if it were gone), so "what I wore today" posts aren't really going to be plentiful for the next week or so (oh damn, I know you're upset about that one) (please note the sarcasm). I have a few posts lined up already, but if there's anything in particular you would like to see, drop me a note.