Somehow, I've managed to acquire four new pairs of shoes in the past five days.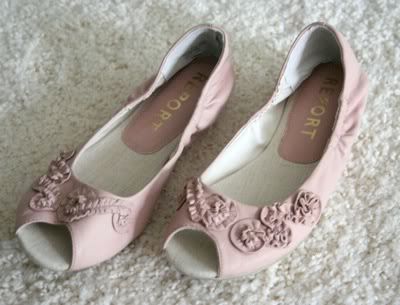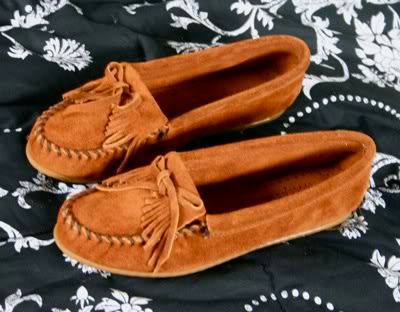 The fourth pair are just a pair of tangerine Keds.
Normally, I feel obligated to spend a lot of money on shoes, but all of these pairs were under $50. The first two I bought impulsively at the mall when all I was supposed to be doing was killing time. It's not love or anything, but they're both surprisingly comfortable, and I'm kind of lacking in the comfortable flat department. I end up wearing Converse a lot. The third are Minnetonka moccasins, which I've been craving for over a year now. They are so comfy, I really wish I wouldn't have putted off buying them for so long. I'm considering
these
now, but those intimidate even me.
Also,
Kelly
tagged me (thank you!), so here we go:
1. What shoe size are you?
8 1/2. I used to be a 9 or 9 1/2, but apparently my feet lost weight.
2. Where do you work?
No where right now. I used to work in a coffee shop, though. Kind of.
3. Favorite piece of clothing you own:
Oh wow...I can't narrow it down to just one item. I love my jackets, dresses, and scarf collection the most.
4. Your favorite blog?
I don't play favorites.
5. Do you have any pets?
No, I'm allergic to most aminals. I have about twenty stuffed animal kitties, though (most of whom are referred to as "Mr. Cat").
6. How many siblings do you have?
Zero!
7. If you could live anywhere, where would it be?
I've always been attracted to California, and at least that's somewhat realistic. But in my dreams? Somewhere in Italy or France, I suppose!
8. What were you doing before this?
Working out, actually. *GASP*
9. Your favorite food?
It changes so often...tortellini. Although it makes me fat. I also really like muffins and Dairy Queen hot dogs. Yeah, I'm kinda gross.
10. Do you have a middle name?
Yes, I do, but I'm choosing not to share.
11. Your favorite websites?
Google.com
12. Who do you tag?
No one and everyone. If you want to do it, then you can say Ashley tagged you. :)